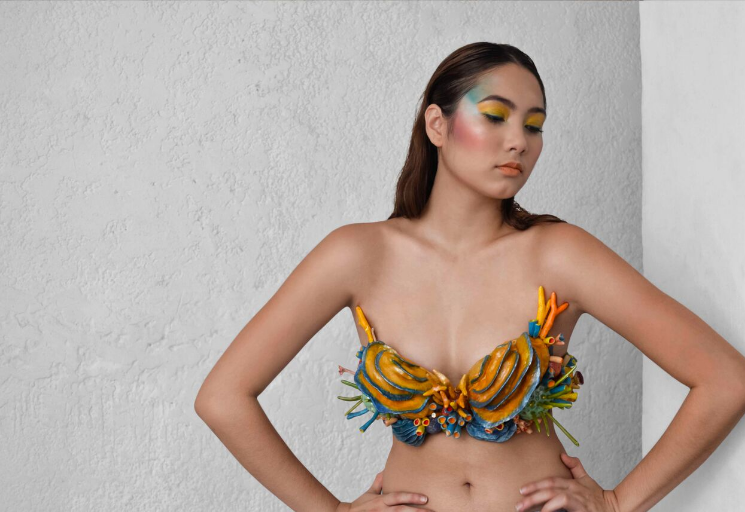 SM Seaside Sides with the Seas
'SM Seaside Sides with the Seas' is a mini-exhibition hosted by the SM Seaside Mall showcasing trashion, wearable art sculotures of headpieces. The pieces are inspired by various living organisms and marine stuctures such as fan corals, sea urchins and marine tubules. Each piece is made entirely from garbage plastic, manipulated by hand.
The exhibition is part of the celebration of the International Year of the Reefs 2018. It is the first solo commissioned show of the artist in the Philippines.
Materials: Garbage plastic
Image: Iansel Clyde
Materials: Thrown-away advertising boards
Image: Iansel Clyde
Materials: Used drinking straws, Retaso copper wires
Image: Iansel Clyde
MARNIE SCULPTURAL GARBAGE PLASTIC DRESS
Made from garbage plastic acquired from sidewalks of Cebu City, Philippines. A response to the indiscriminate disposal of garbage plastic bags in the streets.
LYKA ORIGAMI DRINKING STRAW DRESS
Working together with Handuraw Pizza Cafe, the Lyka Origami Drinking Straw Dress is a conceptual piece that aims to raise awareness on the proper use of drinking straws.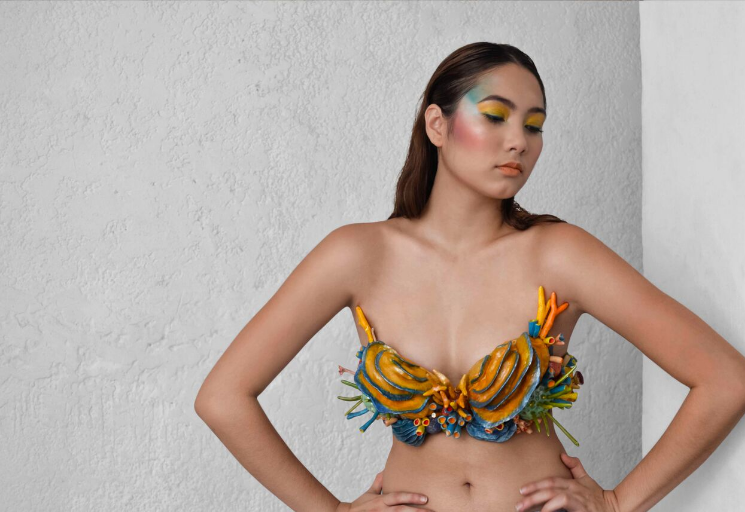 WORLD EARTH DAY - 2016
A collaborative work with artist, Christy Manguerra, and her class of industrial design students from the University of the Philippines - Cebu, the wearable art bras were conceived to present various environmental issues. Made from found materials, the students created several pieces of bras for the World Earth Day 2016.
DANI PET BOTTLES HEAD PIECE
One of Sollano's first pieces, the Dani Head Piece was used for several campaigns on rethinking the role of PET bottles in our modern day society. It also aims to utilize art as a vehicle on issues such as water conservation, solid waste management, and consumption.
CHLOE BEAUTY UNMASKED
This is the artist' first piece back in 2012 together with artist, Christine Mendez. The work is made from found garbage plastic and has been exhibited all over the world. Such material technique is now applied on different research and case studies on fabric manipulation.